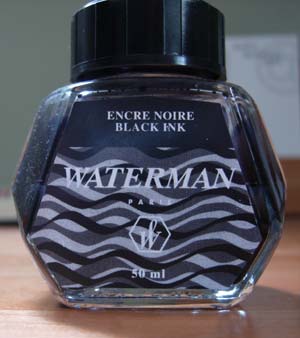 I'm writing a review of Waterman Black ink because I was just gifted with two new bottles of black ink; Mont Blanc, and Aurora. As you will remember I gave up on looking for blue, or rather settled on J. Herbin Éclat de Saphir as the ink I will use in my signature pen, and now am in search of the perfect black ink. The Waterman ink is the baseline which these two and all others I come across will be compared to. Whichever I like more will assume the number one spot.
I have used Waterman black almost since I started using fountain pens. I think I actually started with Levenger Raven Black and switched at some point early on. I wanted to love their ink, I mean after all, it's Levenger! I love those guys! The ink just wouldn't flow well, though. I'm not sure if you would call it clogging or drying out but it really wouldn't flow well at all. I would end up sucking on my pen nib (OK, yuck) or finding some water to dip it in. I even tried it on several of my pens too. *sigh* Waterman black, however, flowed well. How did I pick it out? I went to a fountain pen store, saw it and bought it, not much science there. This ink flows very well and I have to say I have never had a problem with it. It is not the blackest black you can find, and that is one of the critiques I have read about it. The saturation is not complete so if you look at what you have written you will see this very plainly. It is just the faintest bit translucent.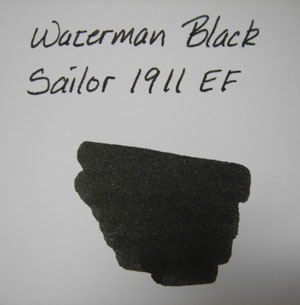 Now at this point, I have to question what I am looking for in a black ink. Do I want the blackest ink possible? Do I want something not quite as saturated as the Waterman? I can't quite say to be honest. My main criteria are that it flows well and that it has a quick drying time so I don't smudge it when my hand touches it too soon (I have this problem with Private Reserve ink which tends to be highly saturated). Beyond that? I'll see which ink pleases me the most. That is in fact the reason I'm doing this exercise. I want to survey the market for black fountain pen ink and make an informed decision on what the best ink is.