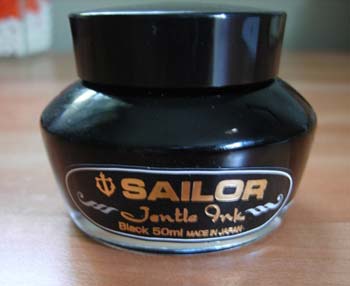 No, that's not a typo, at least not by me. I understand that things sometimes get lost in translation, but this is so absolutely glaring that I have to believe it was on purpose. This is the fourth black ink I have tried. The ink is made by the same company that makes my favorite fountain pen. I will go out on a limb at this point and say that in The Ridge Walker's opinion Sailor makes the finest fountain pens in the world. Period. I therefore was very much looking forward to trying their ink.
This description of their ink is from their web page: "Sailor fountain pen ink is made in Japan from their exclusive formulas. Both bottled and cartridge inks are an alkaline base. Any of the sailor inks can be mixed with one another to create your *perfect* color. Sailor ink should not be mixed with other brands of ink. Sailor's inks are smooth-flowing for use in all your treasured fountain pens. The beautifully designed bottle contains 50ml of ink. Nine rich colors to choose from."
The bottle is stylish in a modern way. It would be at home in any environment, from your office desk to a corner on the book case in your home.
The color of black here is cool in temperature. It is darker than Waterman black and much darker than Mont Blanc, but not quite as black as Noodlers Bulletproof black. I confess this was surprising. I was expecting this would be the darkest of the lot. The Noodlers is a bit more saturated though, and definately warmer in temperature. The Sailor ink is, as noted in the copy from their web page above, very free flowing. I like writing with it. The cool nature of the color is actually most pleasing to me. There is just enough hint of something else to make the ink distinctive and pleasing to the eye. I will confess at this point that I very much like this shade of black. If, however, you are looking for black, and I mean BLACK, for now Noodlers is still the winner.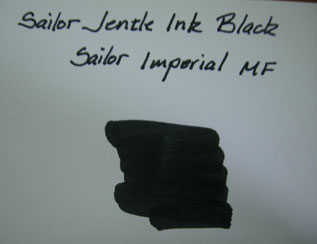 Stay tuned though, I have four more bottles of black ink on my shelf to test, and much more I plan on acquiring. This project has gotten legs. By the time I reach completion I plan on being able to speak with some authority on the topic of black fountain pen ink. Hell, the CIA may even want to consider contracting to me for some of those more difficult cases where this is a factor.