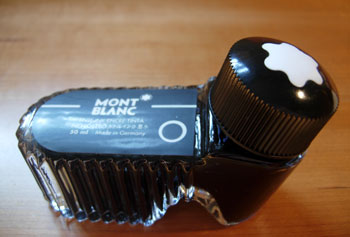 If you think of the color black, the likely thought that comes to mind is, "Black." This is not the same with, I dare say, any other color. Take blue, green, red or even white. If you think of those colors the likely thought that comes to mind, at some point, is the particular shade of that color that you may be fond of. Black, you would think to yourself, is the sole exception; it does not have shades. If it is not black, it is gray, and yes, gray definitely has shades. If this is what you think, you are wrong.
I know this is wrong because I am looking at two shades of black. Waterman black, which before today I would have said is black, seems to have a bit of a greenish tint to it making it a decidedly cooler color. Mont Blanc black has just a hint of red, or is it purple, giving it a warmer feel to it. If I look at the two side by side on the three by five white note cards the Waterman looks, "Blacker." If I look at the two side by side in my Moleskine the Mont Blanc definitely looks blacker. The Mont Blanc appeals to me just a bit more and I am sure it is because the tone is a bit warmer.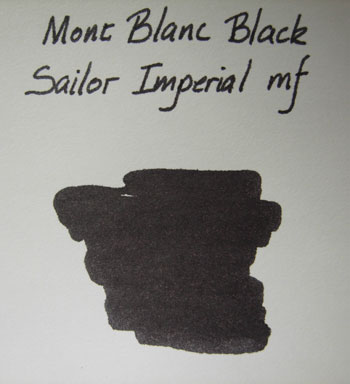 The saturation of the Mont Blanc is quite noticeable. When I did the smear on the card with a Q-tip the ink flowed easily and quickly. There was a definite, "watery," feel to it. This is to say that when you look at it the intensity of the color has a noticeable translucent feel to it. I happen to like this very much. Call it vanity, but it calls to my mind something written a hundred years ago in ink that has started to fade with age, and so I look at what I have written and see an instant, "timeless," quality to it. If I had to choose one or the other of these two inks for my every day use, I would have to give the nod right now to Mont Blanc. Stay tuned though, I have at least four other black inks to go through; Aurora, Noodlers, J Herbin, and Sailor. All four of these come highly recommended, as did the Mont Blanc.