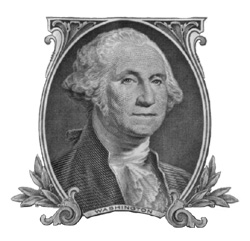 Long ago, I worked in the vault room of a large retail store. A secure, windowless room, the vault's daily sameness was driving me nuts. In a feeble bid for some entertainment, I began collecting defaced one-dollar bills.
Artist: "Darn it, this is the third time my brother has left stuff in his pockets when I have to do laundry. And look at this, his lucky dollar bill with his girlfriend's cell phone number written on it."
George: "I believe that is the reason I have been withdrawn from circulation, so to speak."
Artist: "Ohmigod, you talked to me! Ohmigod, it must be the fumes from the fabric softener giving me hallucinations! MOM! can fabric softener give you hallucinations? She says no. How can you be talking to me?"
George: "Have you ever stopped to listen to me before?"
Artist: "Come on, I'm taking you over to Marcie's so she can hear you, too!"
George: "Miss, I believe that your brother does not want to lose track of the number he painstakingly wrote on the edge of this currency. You should place it back with his trousers in the laundry basket."
Artist: "Serve him right for letting things lie around. Why do you care, anyway? You're just going to end up in the wash next week and be even more faded than you are now."
George: "A gentleman must know how to contact his lady. I believe that is more important than the possibility of fading or sensational displays of my portrait."
Artist: "Lady? She's a skag!"
George: "Miss, beauty is in the eye of the beholder, and furthermore, if you carry me to this 'Marcie's' house, I shall not speak one word more."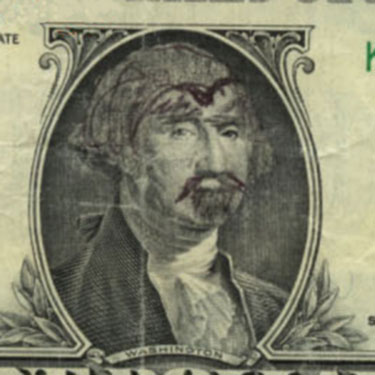 Artist: "Fine. But guess what? Brother dear is going to remember not to leave you lying around this time."
George: "You are a spiteful child."
Artist: "There, you got a makeover. Don't worry. 'Beauty is in the eye of the beholder,' remember?"