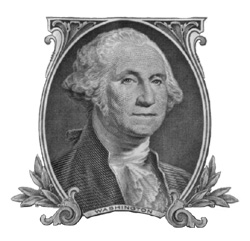 Long ago, I worked in the vault room of a large retail store. A secure, windowless room, the vault's daily sameness was driving me nuts. In a feeble bid for some entertainment, I began collecting defaced one-dollar bills.


Artist: "What a day. These late shifts are killing me ... thirteen, fourteen, fifteen -- oh, jeeze, look at you."
George: "I have been defaced. I do not normally look this way."
Artist: "Now I think the tips are talking to me. I've lost it. Listen, George, I don't normally look this way, either. You look as beat up as I feel."
George: "Even at the worst of the War, I did not look like this. What are you doing?"
Artist: "I'm fixing your black eye. I can't stand a scribbled black eye."
George: "Now you have made me look like one of the painted Indians on a hunt! They cover their entire faces most disagreeably with sooty paint!"
Artist: "Better than looking beat up. And that's the worst beard I ever saw."
George: "I agree. There can be no excuse for -- "
Artist: "I mean, look at it, it's all up and down lines like they were trying to make you into a tree trunk or something."
George: "Please do not try to 'fix' that as well!"
Artist: "Okay, okay, don't get your wig all steamed up. I'm just looking."
George: "I am not wearing a wig. I have never had a use for such vanity."
Artist: "You know, I don't think your makeover artist was trying to draw a beard. The bottom edges are too sharp."
George: "I beg your pardon?"
Artist: "Maybe they started out thinking about a beard, but I think they changed their mind and were making it into a veil! How's that for keen observation after waiting on tables for eight hours?"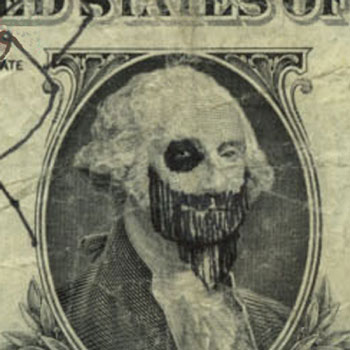 George: "I think I prefer the beard interpretation."
Artist: "You know, when I finally finish school and start teaching, I'm going to make some big copies of you, George, and have the kids decorate you. Spark their creativity."
George: "My most fervent wish is that our federal government will pass a law prohibiting such."