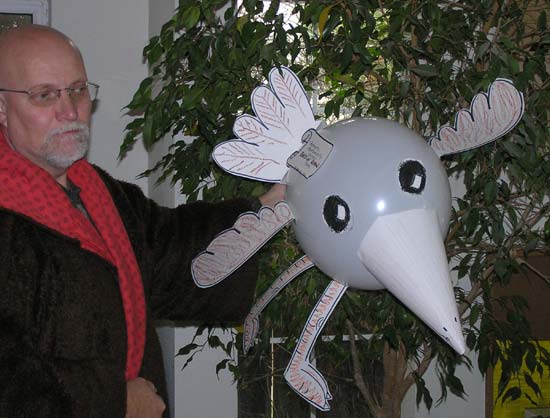 RIPON, CALIFORNIA - Author and naturalist Bernie Pilarski sighted an amazing gift Christmas morning -- a remarkably lifelike Bird of Ripon decoy, painstakingly made by hand by Senior Editor Alexandra Queen and her talented daughter Lillian Queen. "I'm stunned," Pilarski was heard to say as flashbulbs illuminated his home amid the sound of applause. "It looks like it could take wing and fly away any instant! With this in my yard, I won't have to spend so much time in the riparian underbrush having ticks and lizards dropping on me while I seek my little feathered friends."
Senior Editor Queen was inspired to construct the decoy by Pilarski's acclaimed series, "Birds of Ripon" featured in the Piker Press. "The scientific analyses and artistic accuracy Bernie has brought to our ezine are simply astounding," Queen said. "I wanted to make sure that he had the tools he needed to keep those chickens a-comin'."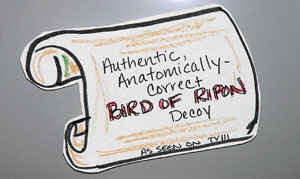 A certificate of authenticity was attached to the Bird of Ripon Decoy, a document certain to increase the value of the creation, though Pilarski says that he would not even consider putting the decoy up for auction on eBay. "Not a chance that I'd let this baby out of my hands. It's gorgeous. It's the ultimate image of all the elusive species that ply the air. No bird is going to be able to resist its undeniable animal magnetism."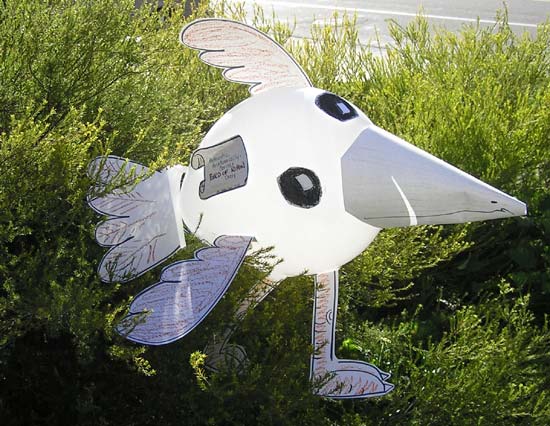 Pilarski wasted no time at all in placing the alluring decoy in his yard, choosing an attractive perch in a Breath of Heaven shrub near his fishpond. "Between the sound of the water from the fountain in the pond and my incredible decoy, I'm going to be able to lure everything from herons to turkeys. I may never have to leave the comfort of my own front porch again."











Originally appeared 2007-01-08.