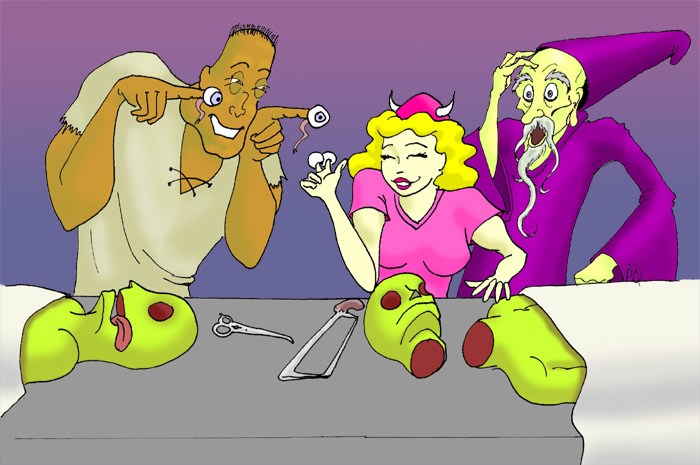 Tried to pencil the next episode and kept messing up. Decided to do something fun to get back into the grove.

As a side note, I suppose this is a decent place to make an observation. My four year old kept trying to peer over my shoulder, and I wasn't sure this was one she should really be looking at. :P My parish priest was also talking this morning about the "evils" of places like Hot Topics and Spencers. "They write stuff like it's in blood," he was saying. "Oh, that's cute!" Anyway, there is rather a lot of evil symbolism made light of in this strip. And the main characters are all (so far) hell bent (so to speak) on becoming evil. But the overall theme of the story is getting what you ask for and deciding whether or not that's really what you want.

Will Lichloved be a "moralistic fable"? Well, I heard the Tale of Genji described as a moralistic fable once. Genji was pretty smutty. Lichloved is not as trashy (mostly because we don't have a 24-hour HazzCam running), but it's still pretty lurid to be described as moralistic. Suffice to say that if you're looking for a teaching tool, ask a nun for a good book. (Then duck just in case she decides to beat you over the head with it instead of reading it to you.) But choices do tend to have consequences in my fiction.

Art note: Crystal of Regular People, the zombie comic, took everything down and is redoing it! I nearly had a fit! But watching her art is fun, and she's still putting out new pages, so I forgive her. Anyway, she was doing layers with her art and mentioned she had a separate layer for shadows and a separate layer for highlights.

"Highlights?" I thought.

Highlights. Those of you who watch for such things will note I've suddenly started using them more. Dunno why I didn't before. :P Thank you, ma'am.
Those of you who have been voting daily are flat out awesome, but I'm very grateful for anyone who's clicked the button.